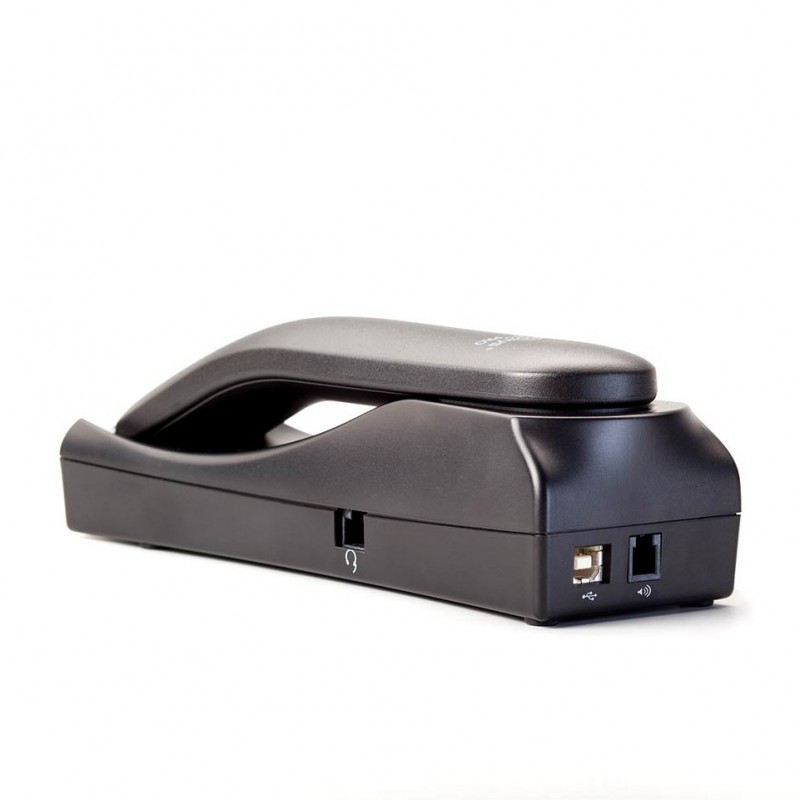 
The flexible USB handset for Office and Unified Communications
A handset for the modern workplace that turns your PC into a highly effective telephone.
USB handset with connectivity for cordless and corded headsets,
external loudspeakers, footswitch or second handset

The specialist for office & unified communications
The elegant USB handset Plathosys CT 220 PRO is optimised for professional office applications. Your PC transforms into a high-performance telephone. It is certified as Unify Ready and is compatible with Skype for Business.
The performance features are varied and can be modified if required. You can, of course, purchase suitable accessories for the Plathosys CT 220 PRO from us.
Plathosys CT 220 PRO: For crystal clear communication in the office
The elegant USB handset Plathosys CT 220 PRO provides with its wideband audio performance excellent voice quality and natural sound experience when used as PC telephony.
Hearing-Aid-Compatibility
Thanks to the assistance of the standard Hearing-Aid-Compatibility (HAC) the CT 220 PRO also allows those with hearing aids to use the very latest modern  communication technology in an age of Unified Communications.
Flexible & individual integration
The varied connection options for high-quality headsets and passive loudspeakers offer the user high flexibility, for example, the switching from handset to headset operation or the activation of an external loudspeaker. In this way you can, for example, listen in via a headset or a second handset.*
Our development team will be pleased to provide support in customising your individual requirements and in integrating the Plathosys CT 220 PRO into your applications through API programming.


* These functions can be configured through API (Application Programming Interface)
Technical Data
• Power supply (USB: 5V, max. 500mA)
• USB 1.1, 2.0 & 3.0
• USB connecting cable 2 m
• Coiled length handset cable 50 cm
• The system is addressable for 32 Bit and 64 Bit
System requirements
• MS Windows 8.1 or higher
• Standard USB-A Port (1.1. or higher)
Material description
• Sturdy casing made of flame retardant plastic PC-ABS (Norm UL 94)
Item Number
• 104074
Features
General
• Plug&play installation
• Elegant and attractive design
Acoustic & Volume
• Acoustic Shock Protection according to ETSI EG 202518 and UL60950-1
• Voice quality earpiece and microphone: Frequency range 100 Hz to 7.500 Hz according to ETSI ES 202739 (wideband audio quality)
• Echo cancellation
• Hearing Aid Compatibility (HAC) according to FCC Part 68.316 and 68.317
• Ring tone signal via internal loudspeaker
Additional functions through API/manufacturer
• Hook on/-off-function *
• Hook on/Hook off function in connection with MS Teams/ Skype for Business and Unify OpenScape Softclients
• Separate volume control
- Handset (Earpiece and Microphone)
- Headset (Earpiece and Microphone)
• API-software available for the development of customers' specific applications
Optional accessories
• Connection options for corded /cordless * headsets
• External 8 Ohm passive loudspeaker can be connected *
• Optional listening in via headset or second handset *
EU-conformity
• EU-conformity according to EU directives 2014/30/EU, 2011/65/EU and 2014/35/EU (CE label)
* These functions can be configured through API (Application Programming Interface)
Scope of delivery
Handset with coiled cable
USB base station
USB connecting cable A-B

and

amplified latching connection at

the base station

Operating instructions
Customers who bought this product also bought:
4 other products in the same category: