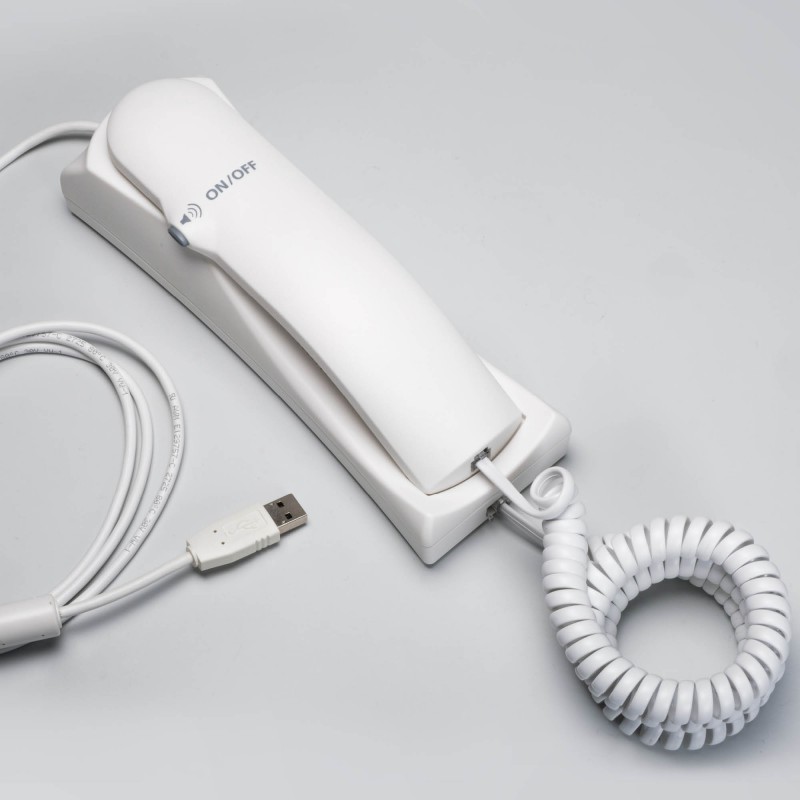 
The USB handset specially developed for eHealth and telemedicine
USB handset CT-460 Pro VC, white
with push-to-listen button, volume control and built-in loudspeaker




Whether telemedicine or digital consultations in hospitals: the right e-health IT equipment is what counts
The USB handset Plathosys CT 460 Pro VC was specially developed for use in e-medicine. Optimal acoustics and loudspeaker function for e-health applications. Professionally assembled IT solutions contribute to secure communication. Whether for consultation in complex consultation cases in the patient's room with specialists and medical experts or in the increasingly expanded field of telemedicine:
As a central element, the Plathosys CT 460 Pro handset offers optimal acoustics for e-health applications, loudspeaker function included.
Digitisation of the ward round: the Plathosys CT 460 Pro USB handset, as part of the e-health equipment of a ward round trolley, for example, takes over the area of acoustics and precise speech transmission.


PTL-Button to activate the integrated loudspeaker
If necessary, all present can listen in and discuss: No debriefing required, no information loss.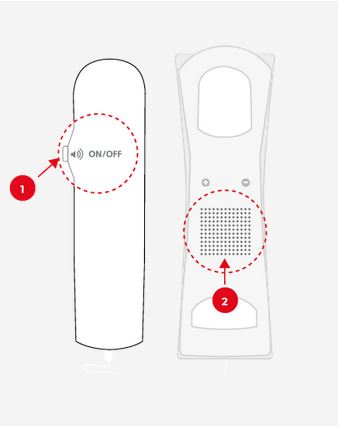 Activate loudspeaker via button.
Crystal clear sound - understandable for all who are present during the visit.
Push-To-Listen (PTL)
This practical function enables the doctor to switch easily from private mode to monitoring function via loudspeaker - no matter whether it gets noisy in the hospital.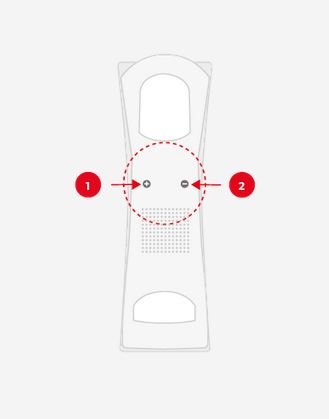 Increase volume - press and hold for 2 seconds to activate listening mode.
Decrease volume - press and hold for 2 seconds to deactivate listening mode.
Technical Data
• Power supply (USB: 5V, max. 500 mA)
• USB 1.1, USB 2.0 & USB 3.0
• USB connection cable 1.50 m
• Reversing length handset cable 50 cm
• The system is addressable via 32 bit and 64 bit
System requirements
• MS Windows 8.1 or higher
• USB-A port (1.1 or higher)
Material description
• Sturdy casing made of flame retardant plastic PC-ABS (Norm UL 94)
Item number
•
105525
Features
General
• Plug&Play-Installation
Acoustic & Volume
• Acoustic shock protection according to ETSI EG 202518 and UL 60950 1
• Voice quality earpiece and microphone: Frequency range 100 Hz to 7.500 Hz according to ETSI ES 202739 (wideband audio quality)
• Echo Cancellation
• Hearing Aid Compatibility (HAC), according to FCC part 68.316 and 68.317
• The volume of the loudspeaker can be adjusted in five steps with the +/- button
• Ring tone via internal loudspeaker
Additional functions through API/manufacturer
• Hook on -/off function*
• Hook on -/off function in connection with Skype for Business, MS Teams and Unify Openscape softclient
• Freely usable switching contact preferably as PTT function* or switching function for by-listening**
• locally adjustable PTT and PTM function**
• API-software available for the development of customers' specific applications
EU-Konformität
• EU-conformity according to EU directives 2014/30/EU, 2011/65/EU and 2014/35/EU (CE label)

* These functions can be configured through API (Application Programming Interface)
Scope of delivery
Handset with spiral cable
USB base station with USB connection cable
Operating instructions
Customers who bought this product also bought:
16 other products in the same category: