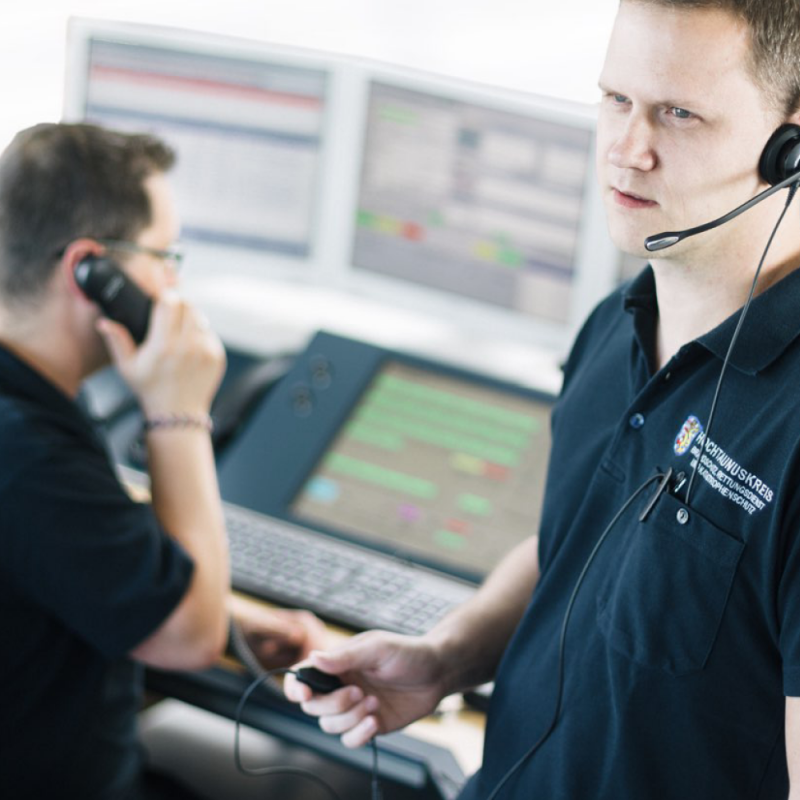 
The professional system solution for control centers - Pre-configured: PTT
USB handset with pre-configured "Push to talk" Button

Side connection for headset and front connections for e.g. desk microphone,
external loudspeaker, cordless or corded headset, second handset for monitoring or foot switch.

For secure communication in control centres
Control centres are busy places. It's loud in an open plan office with several people working side by side at their desks. Accurate information flow is critical. Concentration is needed at a workplace that is always dealing with emergencies. Swift action and decisions are essential as well as correctly passing on information received.
The best communication needs the best technology
With the CT 260 PRO-Handset solutions from Plathosys we have developed professional products especially for operating in control centres. They have successfully been
used for many years both in national and international markets. However the new PRO version offers even more flexible and intelligent systems solutions for individual user requirements. The one employee can switch between handset and headset as necessary, while another colleague may prefer to use a connected loudspeaker to listen. The button on the handset can be individually programmed to either a Push-To-Talk or Push-To-Mute switch.
And much more is possible!
Flexible and expandable as required
The CT 260 PRO has been developed as a systems solution. Optional accessories include a foot-operated switch, a desktop microphone, an external passive loudspeaker,
a cordless or cabled headset as well as a second handset for listening in. With the CT 260 PRO using API all devices can be configured in line with individual customer
requirements.
Developed for use in:
- The office (office environment, call centers etc.)
- Control centers (government agencies, emergency response centers etc.)
- Telephone exchanges
- Home applications with a superior quality standard
Technical Data
• Power supply (USB: 5V, max. 400mA).
• Supports USB 1.1. & 2.0 & 3.0
• The system is addressable for 32 Bit and 64 Bit
System requirements
• MS Windows 8.1 or higher
• USB-A Port (1.1. or higher)
Material description
• Sturdy casing made of flame retardant synthetic material PCABS (Norm UL 94)
Item Number
• 103474
• 104189 - preconfigured PTT
• 104190 - preconfigured PTM
Features
General
• Customized integrable systems solution
• Plug&play installation
• USB sockets with high lockingstrength
Acoustic & Volume
• Acoustic Shock Protection
• Voice quality earpiece and microphone: Frequency range 100 Hz to 7.500 Hz according to ETSI ES 202 739' (wideband audio quality)
• Echo cancellation
• Hearing aid compatibility (HAC) according to FCC Part 68.316 and 68.317
• Ring tone signal via internal loudspeaker
• Separate volume control
- Handset (Earpiece and microphone)
- Headset (Earpiece and microphone)
- Internal/external loudspeakers **
- Desktop microphone
Configurable through API/manufacturer
• Hook on/-off-function*
• Independently usable switching contact if preferred as PTT-function*
• Locally configurable PTT- and PTM-function***
• API-software available for the development of customers' specific applications
Optional accessories
• Optional listening in via headset/second handset
• External passive loudspeaker can be connected
EU-conformity
• EU-conformity according to EU directives 2014/30/EU, 2011/65/EU and 2014/35/EU (CE label)


* These functions can be configured through API (Application Programming Interface).
** Internal loudspeaker is deactivated when external speakers are connected
*** Programming by manufacturer
Scope of delivery
USB Handset PTT/PTM with coiled cable
USB base station
USB connecting cable 2m
Operating instructions
Customers who bought this product also bought:
4 other products in the same category: